» IS-20MP (Heavy-duty type) Mini Puncher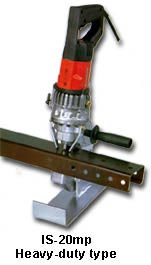 Can punch a hole of 20 diameter, but extremely lightweight, low price and wide applicability. Also it can punch channel steel DUCTER D-2 which
would be difficult to punch with a conventional puncher of this class.
Remarkably reduced in weight

High quality and low price

Uses two types, L and S, of substitude blades to punch a variety of holes.

Substitute blades can be used to punch a stainless steel.

Punches and dies are made of a special alloy and heat-treated in a special manner for a longer service life.

A motor of a double insulation structure requiring no grounding is adopted for a higher safety in punching work.
» IS-16SMC (Motor-driven hydraulic type) Mini Cutter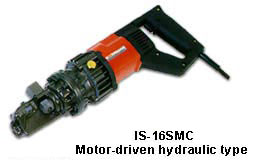 Further lightweight (4.7kg), easier to use.
Rod is doubly sealed for perfect prevention of oil leak from the rod seal.
Stationary blade is fixed in a spigot against loosening.
A larger air pack is adopted for heavy-duty continous working.
» Benders